神戸マネージメントワークス
〒658-0051
神戸市東灘区住吉本町2-7-25
電話 078-822-6552
携帯 090-2114-9368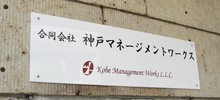 KOBE MANAGEMENT WORKS
Our Consulting Policy
Various management theories are quite respectable and valuable example for us in order to have general ideas for the business. On the other hand, there should be hundred (100) management styles for hundred (100) companies since the management style is created by each company's management policy and each business situation the company facing to.




We do not satisfy applying the famous management theories to our clients, but our consulting aims to create most suitable management style for each of our client, sharing the each management policy.










Our Consulitng Approach
- Management Support for your office in Japan.
- Creating/Reviewing the business strategy.
- Organizing personal stragety for your office in Japan.
- Consulting necessary approach to the Government.


= 25 years international business experiences =
Our Consulting is based upon 25 years working experience in Mitsui & Co., Ltd.
There are various type of business experience including total 10 years overseas station in U.S., HongKong, Dubai.
The main experiences are business operation and organization management.



Government Registed
There is only one governmental registered consultant program in Japan.
Ministry of Economy, Trade and Industry (METI) has registration system for official registration for individual management consultant.
Our officer has been registed since April 2000, which makes proper approach to the management consulting. Also it makes easy to contact to related governmental organization.